 Dear Tech Ambassadors clients,
We regret to inform you of our decision to suspend business operations and permanently close Tech Ambassadors.
Since 2009, we have prided ourselves on providing the highest quality technical consultations, designs, installations and
support for you, your families, your homes, your businesses, and your projects. It was a journey that gave us
innumerable gifts, not the least of which was your trust.
Throughout this journey, we've grown and changed, and found that today, our company is no longer able to provide you
with the services upon which our professional relationship is based.
With an abundance of gratitude, we thank you for your support, and we wish you the very best in the years to come.
Attention: important information about your data
Since our inception, for most of our projects, we diligently created, collected and retained information about your
properties and your systems. This information varies widely from client to client, but can include programming files,
system design and documentation, passwords, credit card numbers, security and alarm codes, among other things.
This information was kept inside secured systems, with limited access even within our company, and all activity was
logged into an audit trail. These measures ensured that we treated your data with the utmost concern for privacy, and we
are pleased to report that it has been safe with us over the years.
Due to the significant operational costs these secure systems incur, and the liability that possession of this data
represents,
all client data are slated for deletion on February 28th, 2018.
Before then,
we highly recommend you request and receive a copy of our data
, as it can be of significant help to
your next vendor, and thus reduce the labor and costs associated with a transition.
(
This is especially true for
Crestron systems)
We ask that
your request for this information
be transmitted to us via e-mail
to
info@techamb.net
, no later than January 15th. If you do not receive a confirmation from us, please do not
hesitate to follow up with me directly at +1.949.200.6071 with your request, after January 15th.
Depending on the length of time since our last contact, the amount of data, the formats involved, and the work required
to collate and transmit it to you, we reserve the right to charge for this service, as it can represent a significant effort to
compile, and may involve purchasing and shipping a physical hard drive to your address.
In closing, we again thank you for the last 9 years, and wish you and yours the very best in this new year.
Tech Ambassadors
T
949.200.6070
F
949-288-6247
info@techamb.net
www.techambassadors.net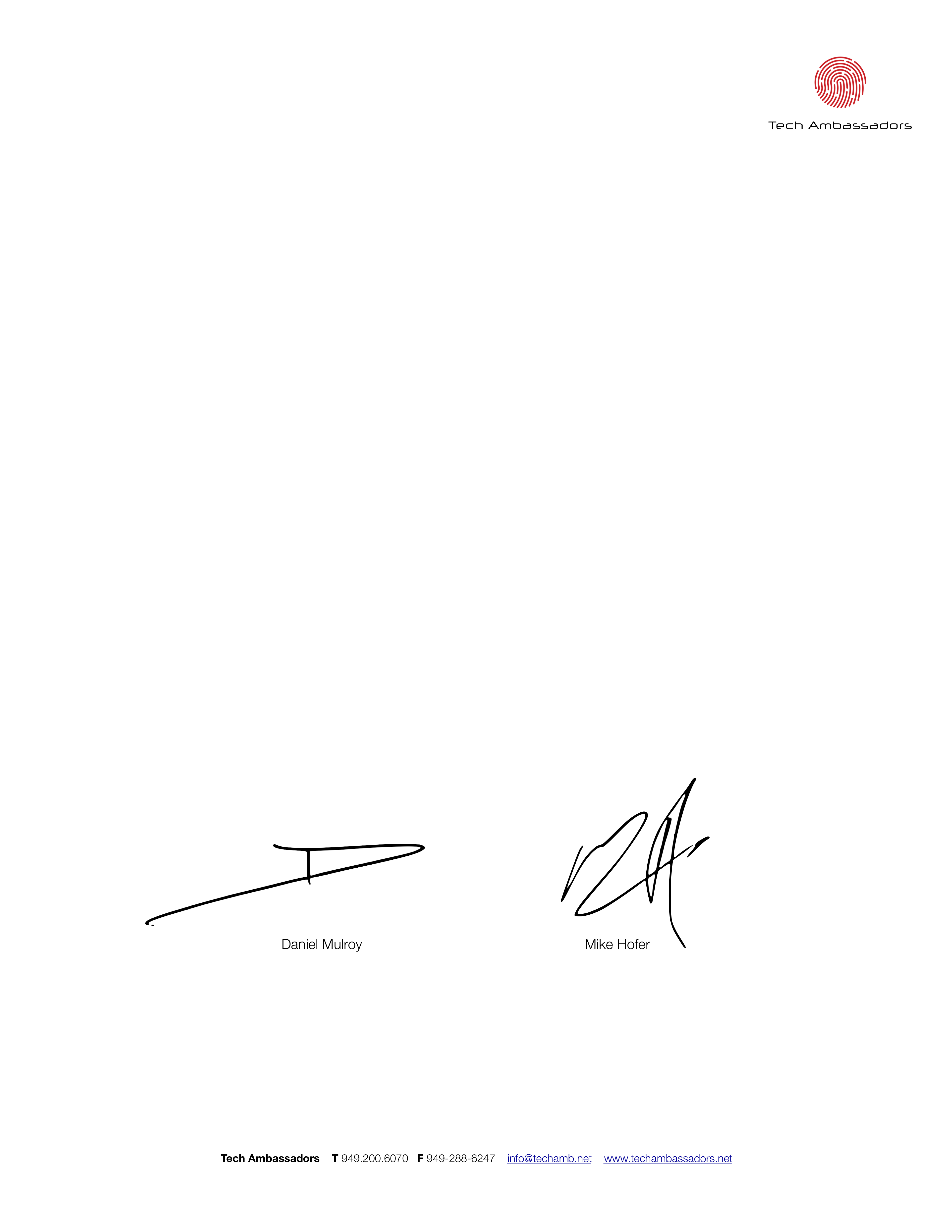 We understand you may have many questions about this transition.
We hope this may answer some of them:
A: No single problem, event, or factor led to this decision, it was the cumulative effect of several important
circumstances, both personal and professional, for both of us. Though we gave our best effort to explore alternatives to
closure, we regret that we were not able to find one that worked for all parties concerned, including you, our clients.
Q: So, no more tech support?
A: While we are happy to assist your new technical personnel in their takeover of your equipment and projects, Tech
Ambassadors can no longer provide maintenance, support, or other technical services unless it is answering questions
your new vendor may have about our work and the systems we put in place.
Q: Who do I call to service my systems?
A: For Audio/Video, we recommend you refer to an organization called "CEDIA", which represents the best audio/video
integration companies nationwide.
For IT, we are not able to recommend someone directly.
Part of our process to find other options besides closure included meeting and interviewing all companies in the greater
Los Angeles area that offered similar services - and unfortunately, given the diverse and unique nature of our projects, we
didn't find any companies we could recommend to all clients.